The Five Reasons The Fed Couldn't (And Still Can't) Hike Interest Rates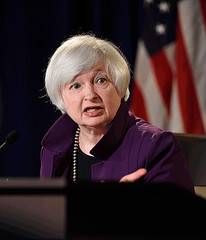 Posted September 20, 2015
There are five reasons the Fed couldn't (and still can't) hike interest rates.   Here they are:
The US Economy is too weak.
Deflationary Pressures are increasing.
The Global Economy is in Recession.
Liquidity is already tightening.
Chinese Blackmail
We look at all these reasons in the new Macro Watch video uploaded today. The first four will be familiar to Macro Watch members as there have been several videos explaining them during the last few months. Still, they are well worth reviewing.
The fifth reason, Chinese Blackmail, is new and, I think, very interesting. I believe you will agree. You'll see that China just might have taken away the Fed's independence. I didn't see that coming. If correct, it has very important implications for the future.
So, what does all this mean for the Dollar? For monetary policy in Europe and Japan? For stock prices? If you are a Macro Watch member, log in now and find out.
If you have not yet subscribed to Macro Watch, join now by clicking on the following link:
http://www.richardduncaneconomics.com/product/macro-watch/
For a 50% subscription discount worth US$250, hit the "Sign Up Now" tab and, when prompted, use the coupon code: reasons
You will find more than 17 hours of Macro Watch videos available to watch immediately. A new video will be added approximately every two weeks.