The Investor's Podcast Interview: Highly Recommended!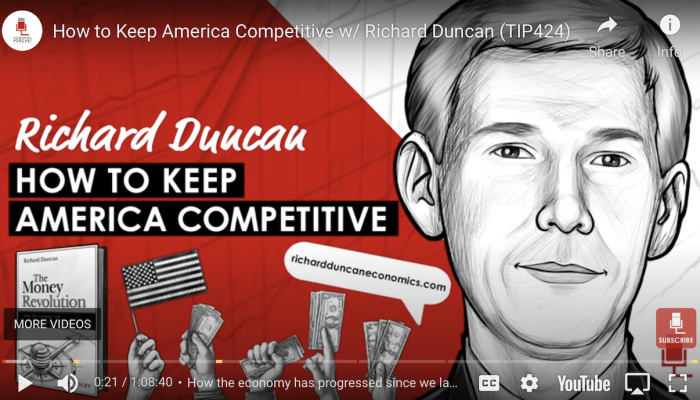 Posted March 4, 2022
I had a really great conversation with Trey Lockerbie in an interview for The Investor's Podcast recently.  Trey always asks excellent questions and allows me plenty of time to answer them.  We discussed not only the outlook for the economy and the financial markets, but also the outlook for the United States.
I strongly recommend that you listen to this interview now.
Topics include:
Why the US economy could go back into recession much sooner than most economists expect.
Why the Fed's sudden pivot toward tighter Monetary Policy and Quantitative Tightening spooked investors and caused the stock market to selloff in January – and what to expect during the months ahead.
Why it could be a costly error to Buy The Dip this time.
Why the "Fed Put" may no longer exist.
The Money Revolution that began when Dollars ceased to be backed by Gold five decades ago; and how that change in the nature of our Money brought about a profound change in the nature of our Economic System as well.
The negative and debilitating mindset that has gripped far too many Americans about what is possible for the country to achieve; and why that mindset must be turned around and faith in a better future restored. 
Three reasons the United States must invest in new industries and technologies on a multi-trillion-dollar scale over the next decade; and how the $350 billion America Competes Act and the $250 billion United States Innovation and Competition Act recently passed by Congress show that the country has begun to move in the right direction.
How to finance the next American Century, so that the first American Century is only the first of many!
I encourage you will listen to this interview now.
After you do, please consider subscribing to my video-newsletter, Macro Watch, if you haven't already.
For a 50% subscription discount hit the "Subscribe Now" tab and, when prompted, use the coupon code: TIP
You will find 75 hours of Macro Watch videos available to watch immediately. A new video will be added approximately every two weeks.
Click HERE to listen to this The Investor's Podcast interview now.
Please share this blog with your colleagues and friends.