2008 vs. 2020 Part Two: Fiscal Policy
Posted September 7, 2022
The new Macro Watch video, the second in a series, compares the Fiscal Policy Response to the Crisis of 2008 with the Fiscal Policy Response to the Crisis of 2020.
The video begins by describing the details of the Fiscal Stimulus put in place following both crises.
It shows that not only was the Fiscal Response following the Crisis of 2020 much larger (24.6% of GDP vs. 7% of GDP in 2008), but also that it was more heavily skewed toward increased Government Spending rather than toward tax cuts.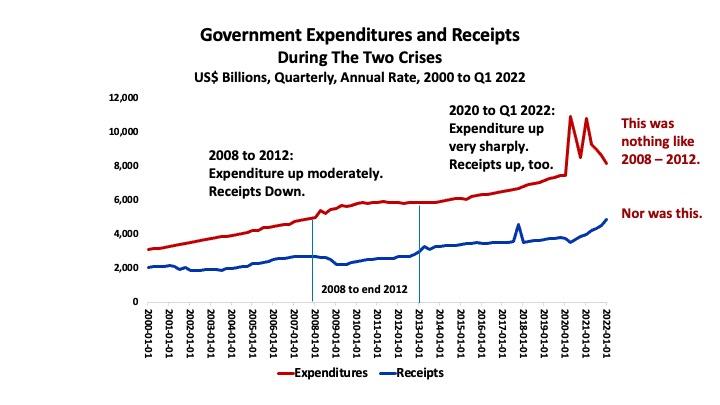 It then discusses the benefits and the costs of the more aggressive Fiscal Policy in 2020, in terms of its impact on:
Economic output and employment,
The video concludes that the much larger amount of Fiscal Stimulus following 2020 brought about a more rapid recovery in economic output and employment and a faster reduction in the budget deficit, but at the cost of higher Inflation. 
It is too soon to know how great the cost of higher Inflation will be.  That will depend on how long Inflation remains high and on how much damage the Fed will have to inflict on the economy and employment to bring it back down.  Only after Inflation has fallen back to the Fed's 2% Inflation target will we know if a very rapid economic recovery was worth the price.
For all the details, Macro Watch subscribers can log in and watch this 18-minute video now. The presentation contains 40 slides that subscribers can download.
If you have not yet subscribed to Macro Watch and would like to, click on the following link:
For a 50% subscription discount hit the "Subscribe Now" tab and, when prompted, use the coupon code: Fiscal
You will find nearly 100 hours of Macro Watch videos available to watch immediately. A new video will be added approximately every two weeks.
On a separate note, for a list of great books that I recommend (this time some of my favorite books on Philosophy), click HERE.
Please share this blog post on Twitter, Facebook and LinkedIn.