More Pain Ahead: Rates To Rise, Stocks To Fall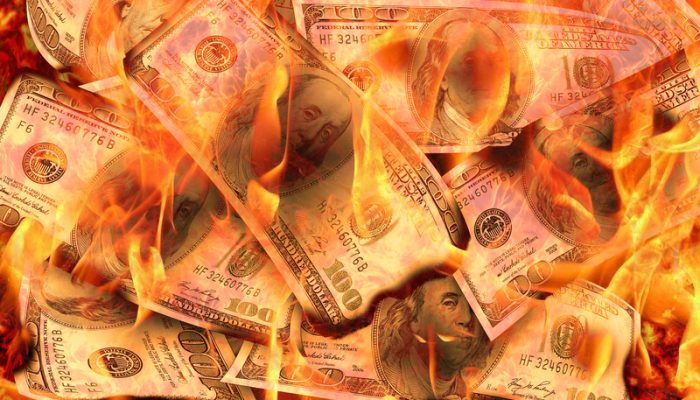 Posted June 18, 2022
The Fed hiked the Federal Funds Rate by a larger than expected 75 basis point on Wednesday to a range between 1.5% and 1.75%.  Given that the inflation rate is 8.6%, it should be very much higher.  The chances are high that it soon will be.  If so, a great deal more wealth will be destroyed before this tightening cycle ends. 
During the tightening cycle between mid-2004 to mid-2006, the Fed hiked the Federal Funds Rate 17 times from 1% to 5.25%. Inflation at that time was much lower than it is now. Inflation peaked at 4.7% in September 2005. Last month it was 8.6% and showing no sign of abating.
The 10-Year Government bond yield is even more important than the Federal Funds Rate since it tends to determine mortgage rates, the cost of consumer credit and corporate borrowing costs.  At 3.3%, it, too, is far lower than would be expected given 8.6% inflation.
Normally, history is a helpful guide in predicting the future. But not in this case. The factors that will determine the 10-year government bond yield during the months ahead are not the same factors that determined bond yields in the past.
Monetary policy has changed so radically during recent decades that the forces that drove bond yields in the past are no longer the principal factors that will determine how high bond yields will move during the months ahead.
In 2022, there are many new factors impacting bond yields that simply did not exist a few decades ago. Some exert downward pressure on yields. Others exert upward pressure.  The new Macro Watch video examines them all. 
The video also identifies the one factor that now sets the floor below which the 10-year bond yield will not trade.  It also explains why that factor is nearly certain to push bond yields higher over the next year.
All this means that investors should be prepared for asset prices to continue to fall.  The property market won't be spared. The chances of the economy sliding into recession are very high.  In short, expect more pain ahead.
Macro Watch subscribers can log in now and watch "More Pain Ahead" for all the detail. The video is 20-minutes long and offers 39 slides that can be downloaded.
If you have not yet subscribed to Macro Watch and would like to, click on the following link:
For a 50% subscription discount hit the "Sign Up Now" tab and, when prompted, use the coupon code: Hikes
You will find nearly 100 hours of Macro Watch videos available to watch immediately.  A new video will be added approximately every two weeks.
On a separate note, to learn more about my new book, The Money Revolution: How To Finance The Next American Century, and my other books, click HERE.
Please share this blog post on Twitter, Facebook and LinkedIn.