US-China Trade War Could Be A Turning Point In History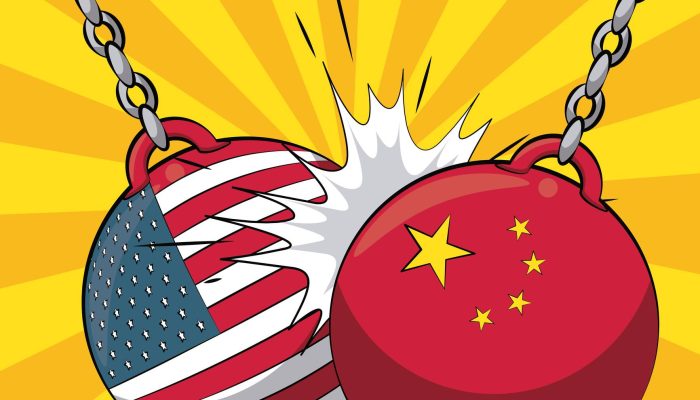 Posted July 12, 2018
Last night I watched "Death By China" on YouTube.  If you haven't, you should.  It's free.  This documentary was made by Peter Navarro, the Director of the United States National Trade Council. Navarro believes China poses a grave threat to the United States.  President Trump agrees with him.  The Trump Administration's demands for trade concessions from China are intended to eliminate that threat.
China cannot possibly meet those demands.  China's economy has grown large, but it is very fragile – very much like Japan's economy in 1989.  A large reduction in its trade surplus with the United States could send the Chinese economy into a severe depression.
Over the last  30 years, the world has been transformed by the rise of China.  That era may now be coming to a close.  If so, this will be a turning point in history – perhaps a very unpleasant one.
The US-China Trade War has begun.  It may play out slowly or it may run out of control much more quickly than anyone currently anticipates.  Either way, it is likely to be the most important event impacting the global economy during the years immediately ahead of us.  It is crucial to understand its causes and its potential consequences.
Macro Watch has published eight videos on this topic during the last two years.  They explain the rise of the Chinese economy, the crisis now confronting China's economic growth model and the dangers the world would face should a trade war between the United States and China break out.  Those videos are listed below with brief descriptions.  New videos on this subject will be added soon.
The Macro Watch China Crisis Series (Five Parts, Second Quarter 2016)
Part One:  Where The Money Came From
Extraordinarily rapid credit growth fueled China's unprecedented economic bubble.  This video explains how trade surpluses, currency manipulation and credit financed China's great economic boom.
Part Two:  Where The Money Went
This video shows how a 50-fold increase in Investment between 1990 and 2014 transformed China and resulted in mind-boggling excess capacity across nearly every industry.
Part Three:  Funding Constraints
China's economic growth engine is fueled by extraordinarily large amounts of credit.  This video explains why a sharp slowdown in Chinese credit growth and economic growth is inevitable.
Part Four:  One World Is Not Enough
China's economic development model of export-led and investment-driven growth is exhausted.  This video explains why there is not enough aggregate demand in the entire world to allow China's economy to continue to expand.  Trade frictions will be unavoidable.
Part Five:  Chimerica In Crisis
Chimerica is a term used to describe the economic relationship between the United States and China.  Chimerica accounts for 36% of global GDP and 41% of global investment. If the Chimerican relationship ends in divorce, a global depression will follow.
Trump's Trade Policies: Good Intentions, Devastating Consequences (First Quarter 2017)
This video describes the undesirable – and, potentially, devastating – consequences that would arise if the Trump Administration begins to bring US trade back into balance.
China's Credit Tsunami May Capsize The World (Fourth Quarter 2017)
The IMF has forecast that total credit in China will double to US$54 trillion by 2022.  This video analyzes the impact on the global economy if that forecast proves to be correct.
China's Economy 2017 (Fourth Quarter 2017)
This video provides an update on developments in China's economy over the past year. It also takes a look at how quickly China's economy is catching up with the US economy.
This would be a good time for Macro Watch subscribers to log in and watch these videos again.
If you have not yet subscribed to Macro Watch and would like to, click on the following link:
For a 50% subscription discount hit the "Sign Up Now" tab and, when prompted, use the coupon code:  war
You will find 44 hours of Macro Watch videos available to watch immediately.  A new video will be added approximately every two weeks.
Please share this blog with your colleagues and friends.