A Synopsis Of The Money Revolution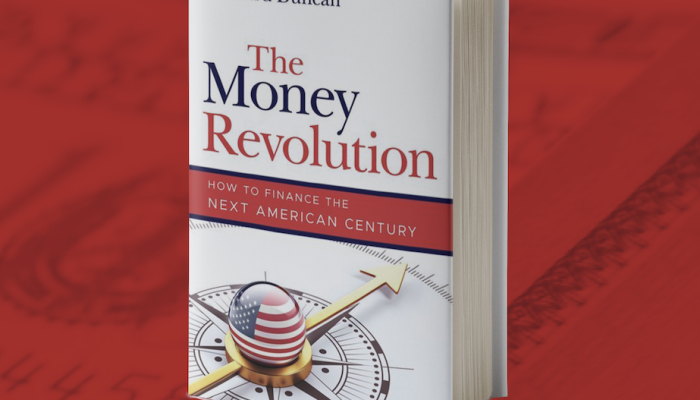 Posted April 30, 2022
Today's Macro Watch video provides a synopsis of my new book, The Money Revolution: How To Finance The Next American Century.
It explains why I wrote this book and it summarizes each of the book's 21 Chapters.  Please find the book's Table Of Contents copied below.
After watching this video, you will understand the nature of the revolution in Money and Credit that has occurred during the five decades since Dollars ceased to be backed by Gold.  
You will also see that this revolution has created a new economic environment that offers the United States the opportunity to invest in new industries and technologies on a scale large enough to ignite a technological revolution that would turbo-charge economic growth, consolidate the country's geopolitical preeminence, and vastly enhance human well-being, not only in the United States, but all around the world.
After you watch this video (or before), I hope you will:
Click HERE to buy The Money Revolution: How To Finance The Next American Century.
Then click on the social media icons at the bottom of this page to share this blog post with your colleagues and friends.  The message in this book is a message that needs to be heard.
The video is 45 minutes long and offers 98 slides that can be downloaded.  Yes, it's a long video.  But the book has 500 pages and 250 charts and tables.  It took four years to write.
Macro Watch subscribers can log in and watch "A Synopsis Of The Money Revolution" now.
If you have not yet subscribed to Macro Watch and would like to, click on the following link:
For a 50% subscription discount hit the "Sign Up Now" tab and, when prompted, use the coupon code:  Synopsis
You will find more than 75 hours of Macro Watch videos available to watch immediately. A new video will be added approximately every two weeks.
Here's the book's Table Of Contents:
The Money Revolution: How To Finance The Next American Century
Introduction
Part One: Money
Chapter 1: The Power Of The Fed
Chapter 2: 1914 to 1920 – World War I
Chapter 3: 1920 to 1930 – After The War
Chapter 4: 1930 to 1941 – The Great Depression
Chapter 5: 1941 to 1945 – World War II
Chapter 6: 1945 to 1971 – The Bretton Woods Era
Chapter 7: 1971 to 2007 – After Gold
Part Two: Credit
Chapter 8: Credit Creation By The Banking System
Chapter 9: Credit Creation By The Financial Sector
Chapter 10: Credit Creation By Foreign Central Banks
Chapter 11: Creditism
Chapter 12: 2007 to 2016 – Crisis and Response
Chapter 13: Creditism Between The Crises
Chapter 14: Pandemic
Chapter 15: Inflation
Part Three: The Future
Chapter 16: America Must Invest
Chapter 17: Inadequate Investment
Chapter 18: R&D – The Future Depends On It
Chapter 19: The United States Can Afford To Invest
Chapter 20: Monetize The Debt
Chapter 21: An Investment Revolution
Conclusion