Great Twitter Spaces Conversation with Michael Green: Listen Now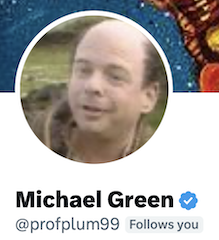 Posted February 7, 2023
Michael Green, chief strategist at Simplify Asset Management, conducts brilliant interviews on Twitter Spaces, on Simplify's YouTube channel, and on Substack. If you don't already follow him on Twitter, you should. His Twitter handle is @profplum99. He has 132,000 Twitter followers, and for good reason!
I was honored, therefore, when Michael invited me to discuss my book, The Money Revolution, with him in the first episode of a new book club he is launching on Substack.
I hope you will listen to our conversation now. You won't regret it. Links to the interview are provided below.
After you do, please consider subscribing to Macro Watch if you haven't already subscribed.
CLICK HERE TO SUBSCRIBE TO MACRO WATCH
For a 50% subscription discount hit the "Subscribe Now" button and, when prompted, use the coupon code: January
To listen to a 10-minute excerpt from the interview CLICK HERE.
To listen to the entire interview on Substack, CLICK HERE.
Please share this blog post with your colleagues and friends.