I Asked Alan Greenspan A Question Of Historic Importance Last Week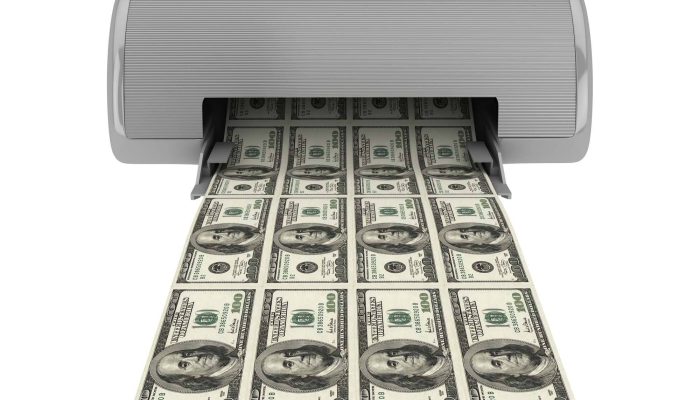 Posted January 26, 2017
Thanks to Bill Bonner and my other friends at Agora Economics, I had the opportunity to meet former Fed Chairman Alan Greenspan on January 18th at the Agora Economics Roundtable 2017 in Baltimore.   Below is the transcript of the questions I asked him and his replys. Please keep in mind that this was a discussion. We only had an hour with Dr. Greenspan.   Roughly 15 to 20 questions were put to him. Time was short. I had only a very limited time to ask my question and to get a meaningful response.   I believe the question I asked is of historic importance. I was determined to get an answer. I did.
You will find the transcript below. But, first, let me point out that, today, I have added a few comments in RED (below) to help clarify points that my not be obvious to those who have not followed this subject closely.
Here's the transcript:
Richard Duncan:   Dr. Greenspan, we know almost everything about the crisis of 2008 by this point, but there's one very important thing that we don't know, in my opinion, and that is what was your thinking about the fiat money creation that was being carried out by the central banks of the trade surplus countries? They created trillions of dollars between 2000 and 2007 and they invested 70% of those into US dollar denominated assets, mostly treasury bonds.
For instance, during the "Conundrum years", mid-2004 to mid-2006, foreign exchange reserves went up by one and a quarter trillion dollars; and 900 billion of those reserves were held in US dollars.   Those dollars were invested in US Dollar-denomiated assets, mostly treasury bonds. That was enough to finance the entire US government budget deficit for those two years, with 200 billion dollars left over. Doesn't that explain "the Conundrum"?   And how did you think of that at the time?
The Conundrum: Between mid-2004 and mid-2006, the Fed increased the Federal Funds Rate by 425 basis points, but longer-term interest rates (such as the yield on 10-year US government bonds) did not go up as they normally do when the Fed hikes short-term interest rates. In the middle of this interest rate tightening cycle, a Senator asked Chairman Greenspan why long-term interest rates were not going up even though the Fed was hiking. Chairman Greenspan replied, "I don't know. It's a Conundrum."
Alan Greenspan: I don't think it does. If you look at double-entry bookkeeping in the national accounts, the type of transactions you're talking about don't directly affect that. That is, if you get a central bank, let's say the case in which is the most general way, in 2008 the federal reserve, because everyone wanted to hold dollars, which I found very fascinating as it was as late as … Remember, we were a fiat currency, we were a weak fiat currency, but stronger than everybody else so through that crisis reserves were US dollars and the federal reserve made a large number of swaps, which were temporary exchange of dollars for Lira, for Euros, any foreign currencies of other central banks.
They were unwound shortly thereafter so it's not … The basic problems are, you get bubbles because human nature is what it is. People get euphoric. We know by experience that fear is a far more formidable force in human activity than euphoria and as a result, for example, recessions go down far more sharply than recoveries and the stock market behaves exactly the same way so that you've got these very odd patterns. Without getting into too much detail, most economic models that work try to integrate human nature into the asymmetries that we're seeing. What I've seen at the moment that you would not have gotten a crisis in 2008 if we took, say, eliminated Dodd-Frank completely and merely substituted a significant increase in equity capital requirements in the commercial banking industry for everything else.
The reason I say that is we have data going back in the United States to 1869 since the beginning of the control of the currency and that shows that income, net income of commercial banks to equity assets has been a remarkably stable five …
Richard Duncan: I'm sorry, could I interrupt. This wasn't a swap, this was a central bank, the PBOC, printing money, buying dollars and buying treasury bonds, pushing up their price and pushing down their yield.
Alan Greenspan: Everybody does that but you can't push the yield down if the market's running against you.
Richard Duncan: You were trying to push them up by hiking the Federal Funds Rate by 425 basis points …
Alan Greenspan: I wasn't there.
Richard Duncan: This was when you were hiking rates in 2004, 2005 and 2006, but the ten-year bond yield didn't go up ..
Chairman Greenspan retired from the Fed in January 2006.
Alan Greenspan: No, what happened then is what I call "The Conundrum".
Richard Duncan: Yes.
Alan Greenspan: We thought, what we thought was that we had to tighten the markets and as we did the only tool that we had was the federal funds rate and historically we did not trade in the long end of the market.
Richard Duncan: My question is, the long end didn't go up because the PBOC was printing RMB, buying dollars and buying treasury bonds.
Alan Greenspan: No, that's not the reason. The reason was that the cold war came to an end and the Berlin wall came down and you have a huge increase in the number, it was something like a billion people came out from behind the iron curtain and tried to integrate with the remainder of the world's economy and obviously the economic ruin behind the iron curtain that was exposed when that wall came down was a great shock to everybody. You had all of these semi-skilled people moving into the west and there was enough of a downward pressure on wages because big new supply occurred that you've got interest rates going down.
For example, I remember extraordinarily well that Mexico was able to issue a 20-year peso-backed bond at a reasonable interest rate, not terribly much above the United States. This is within a relatively few years. Remember in 19 … I'm trying to think, it was when Mexico was about to go bankrupt, which was 1984 and it had Tesobonos, which were basically not backed by anything and we bailed them out, the United States bailed out Mexico at that particular point. They were able to come back very few years later with a 20-year issue in pesos and they couldn't … For decades, I don't think they ever were able to issue a 20-year peso-denominated anything.
Richard Duncan: The creation of the equivalent of 10 trillion dollars by the foreign central banks between 2000 and 2014 had no impact on the global savings glut?
The event organizers were signalling (and had alaready signaled a few times) that my time was up….
 Global Savings Glut: Both Ben Bernanke and Alan Greenspan explained that the Fed was unable to prevent the property bubble in the United States (and, consequently, the global economic crisis, because there was a "global savings glut").   By that they mean that people in the developing economies had a very high savings rate and they chose to invest their savings in US Dollar-denominated assets, instead of investing at home. Their investments caused US bond prices to rise and US bond yields (i.e. interest rates) to fall. And there was nothing the Fed could do about it.
We don't know because you can't tell. There were so many forces at play at that time it was difficult to separate them. We were confronted with the fact that with this huge increase in savings, because remember, the income of the previously behind the iron curtain countries was not spent, they saved a good part of it because there were no institutions for savings. That drove down the long-term rates in the market of both the US dollar and all other rates. In that type of condition you've got a very difficult problem on the part of the federal reserve who was trying to raise rates but the flood, the savings glut, was coming from the movement of funds from behind the iron curtain, basically.
These were people who were literally blocked off until you got a huge increase and the rates kept going down for a number of years. I don't know whether, to what extent you can attribute anything to anything, but that was critically the major factor in retrospect.
End
I find his final remark especially fascinating: "I don't know whether, to what extent you can attribute anything to anything…."
Also, I'm not sure how much money the people behind the iron curtain had saved up, but I'm sure it was no where near $10 trillion dollars. I would be surprised if as much as $100 billion of savings moved from Eastern Europe to the US. The iron curtain fell in 1989. The Conundrum occurred between mid-2004 and mid-2006.
I believe this Q&A with Alan Greenspan is of historic importance. Subscribers to Macro Watch can log in now and watch the new Macro Watch video to find out why.
If you would like to subscribe, click on the following link:
https://richardduncaneconomics.com/product/macro-watch/
Hit the orange "Sign Up Now" tab and, for a 50% subscription discount, when prompted, use the coupon code: greenspan