An Intense Interview with Richard Duncan by Michael Gayed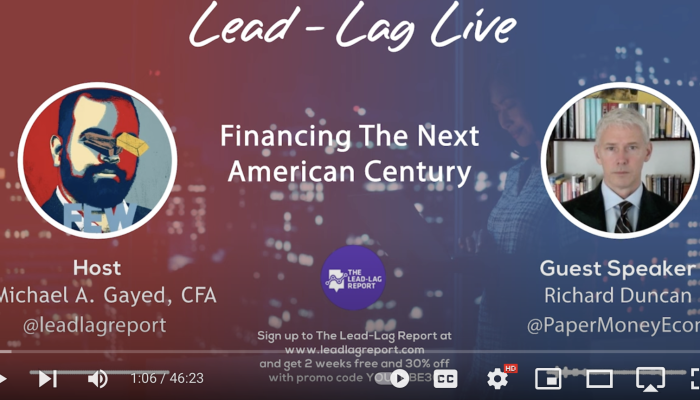 Posted September 22, 2023
Last week I did a live Twitter Spaces interview with Michael Gayed who provides great economic and financial markets commentary through his The Lead-Lag Report and to his 750,000 followers on X, a.k.a. Twitter.
I believe this was a great conversation and I strongly recommend that you listen to it now.
Michael has posted it on YouTube under the title: "An Intense Interview with Richard Duncan". And he's right. By the end, it is quite intense because it deals with issues that will determine whether the golden age under the United States global leadership since World War II will continue or disintegrate.
Topics include:
Why The Dollar Standard is the global monetary system.  How The Dollar Standard promotes global economic prosperity and how it has pulled hundreds of millions of people out of poverty.  And why The Dollar Standard will remain securely in place for decades to come.
Why the Republican Party is making an enormous mistake by rejecting President Reagan's policy of massive government investment and, instead, insisting on its opposite, austerity. Reagan's government investment strategy was the Republican Party's most successful policy during my lifetime, leading to the collapse of the USSR and a domestic economic boom. Austerity can only lead to decades of economic stagnation and national shame as the United States is eclipsed economically and technologically and dominated militarily by China – because China is aggressively pursuing a strategy of government-financed investment in new industries and technologies.
Why The AI Revolution has added another reason for the United States to continue to prevent China from conquering Taiwan – as it has done since 1949; and a discussion of how Taiwan, Nvidia's processors, AI and world domination are now inextricably tied together.
Why there was inflation following the policy response to the Covid pandemic, while there was none following the equally aggressive policy response to the Crisis of 2008. And why Inflation, in fact, did turn out to be Transitory, but Transitory over two years rather than only one.
What I got right and what I got wrong in my first book, The Dollar Crisis, published 20 years ago. What I learned from my mistakes and how those lessons led me to write my latest book, The Money Revolution: How to Finance the Next American Century.
And, finally, what must be done to ensure that the first American Century is not the last, but only the first of many.
After listening to this interview, please consider subscribing to my video-newsletter, Macro Watch, if you have not subscribed already.
For a 50% subscription discount hit the "Subscribe Now" button and, when prompted, use the coupon code: Spaces
Click HERE to listen to my conversation with Michael Gayed now. 
Finally, to see a list of all my books, click HERE.
Please share this blog post with your colleagues and friends.