Interview: SVB, Technology and Politics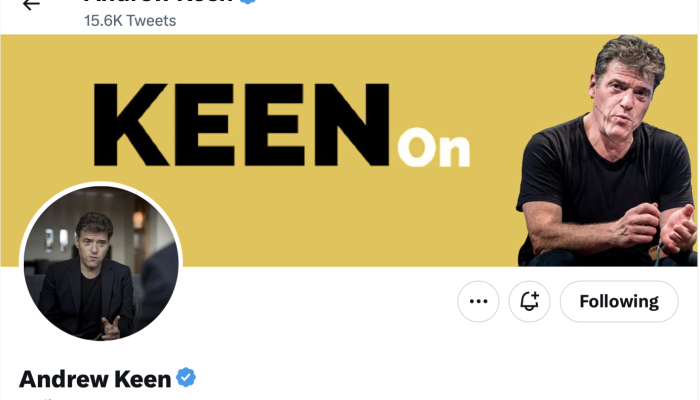 Posted March 21, 2023
Last week, just before I left New York, I was interviewed by Andrew Keen for his Keen On podcast.  Named as one of the "100 most connected men" by GQ magazine, Andrew is amongst the world's best known broadcasters and commentators.  He conducts fascinating interviews with truly interesting people on a very wide range of subjects. I strongly recommend that you follow Andrew on Twitter (@ajkeen) and subscribe to Keen On on Apple Podcasts.
We began our conversation with a discussion of the banking crisis sparked off by the failure of Silicon Valley Bank – and how that crisis may force the Fed to stop destroying Dollars through Quantitative Tightening. 
We then went on to discuss my proposals for the US government to finance a multi-trillion-dollar investment in new industries and technologies over the next decade, as detailed in my book, The Money Revolution.
I told Andrew what I had said in a recent speech before 15 members of the House Ways and Means Committee in Washington; and I explained why I believe a large-scale investment program targeting the industries of the future would be supported enthusiastically by the American public, Democrats and Republicans alike, and even by Donald Trump.
Andrew asked some tough questions, gave me a fair hearing, and, eventually, expressed considerable sympathy for my arguments.
I hope you will listen to this interview now.  I believe it was an especially good one.
After you do, please consider subscribing to my video-newsletter Macro Watch, if you haven't already.
CLICK HERE TO SUBSCRIBE TO MACRO WATCH
For a 50% subscription discount hit the "Subscribe Now" button and, when prompted, use the coupon code: Avenue
You can watch the interview by CLICKING HERE (in which case you will see a good view of 6th Avenue from my hotel window).
Or you can listen to the interview by CLICKING HERE.
Please share this blog post with your colleagues and friends.